March 4, 2015
An Exciting Update on Georgia Aquarium's Beluga Pregnancy!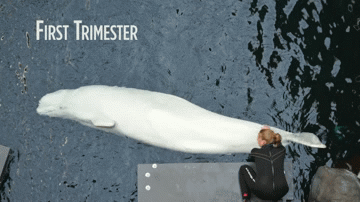 The moment we've been waiting for is drawing near! Late last year, we announced that Maris, our 20-year-old beluga whale, is expecting a calf this spring. She is currently in her final trimester with her delivery expected very soon.

Pregnancy and giving birth is a delicate process for all mammals, and the aquatic environment makes it even more so with marine mammals. Georgia Aquarium's veterinary and animal care teams continue to closely monitor Maris' health and the health of her calf through routine blood and hormone monitoring, as well as weekly ultrasounds that allow us to track the growth and development of the calf.
We are happy to report that Maris is healthy and in good body condition and her calf appears to be progressing well. Staff has seen the calf moving while Maris swims or interacts with staff for quite some time, which is another positive sign.
The team is hopeful for a successful outcome, but remains cautiously optimistic given that this is just Maris' second pregnancy. First-time pregnancies in beluga whales and other cetaceans are often unsuccessful in both the wild as well as in zoological facilities. Chances for a successful birth increase with each beluga whale pregnancy.
"Maris' pregnancy has progressed normally and routine monitoring suggests that the calf's development is on track," says Dr. Tonya Clauss., Georgia Aquarium's Director of Animal Health. "We are guardedly optimistic that the calf will be born healthy. If the birth is successful, there will be other early milestones to achieve, including bonding with Maris and successful nursing."
As the birth of Maris' calf draws near, the animal care team closely watches for any changes in Maris' behavior, swim patterns and food consumption. The team is measuring Maris' body temperature daily. Decreases in body temperature along with other behavioral and physiological changes are key indicators of labor. She is on 24-hour observation to allow the team to detect labor as soon as it begins.
Our animal care team is also conducting desensitizing sessions with Maris to help make her comfortable with the atmosphere she may experience during and after delivery, which includes divers in the water and extra team members around the habitat. These team members are there to ensure swift assistance to Maris and her calf should any complications arise during or immediately following the birth. For example, the divers would be able to assist with the calf's most critical moment after birth, its first breath, and could bring it to the surface should it not do so by itself.
We are committed to providing the best care for Maris throughout her pregnancy and afterward. When she begins to show signs of labor, the exhibit will be closed to allow our animal care and veterinary staff to focus completely on the comfort and well-being of Maris and calf. It will remain closed for some time after the birth so that Maris and her calf may bond with limited distractions, and so staff can monitor them closely.
As a leading organization in the zoological community, we are dedicated to protecting beluga whales worldwide. With fewer than 35 beluga whales in human care at AZA accredited facilities in North America, it is more important than ever that we all do our part in protecting this magnificent species – and we hope that you will join us. We are excited to share this update with you, our fans, and look forward to sharing the birth announcement with you through our social media channels. Be sure to follow us on Facebook, Twitter and Instagram for the latest news
Come visit Maris in our Georgia-Pacific Cold Water Quest gallery or learn more beluga whale facts from our online Animal Guide! Did you miss Maris' pregnancy announcement? Read it here on our blog.
Want to do more to support our ongoing conservation efforts? Join the Caring Together Club today, a special community of animal advocates who understand and support the work that Georgia Aquarium and the zoological community are doing for animals everywhere.